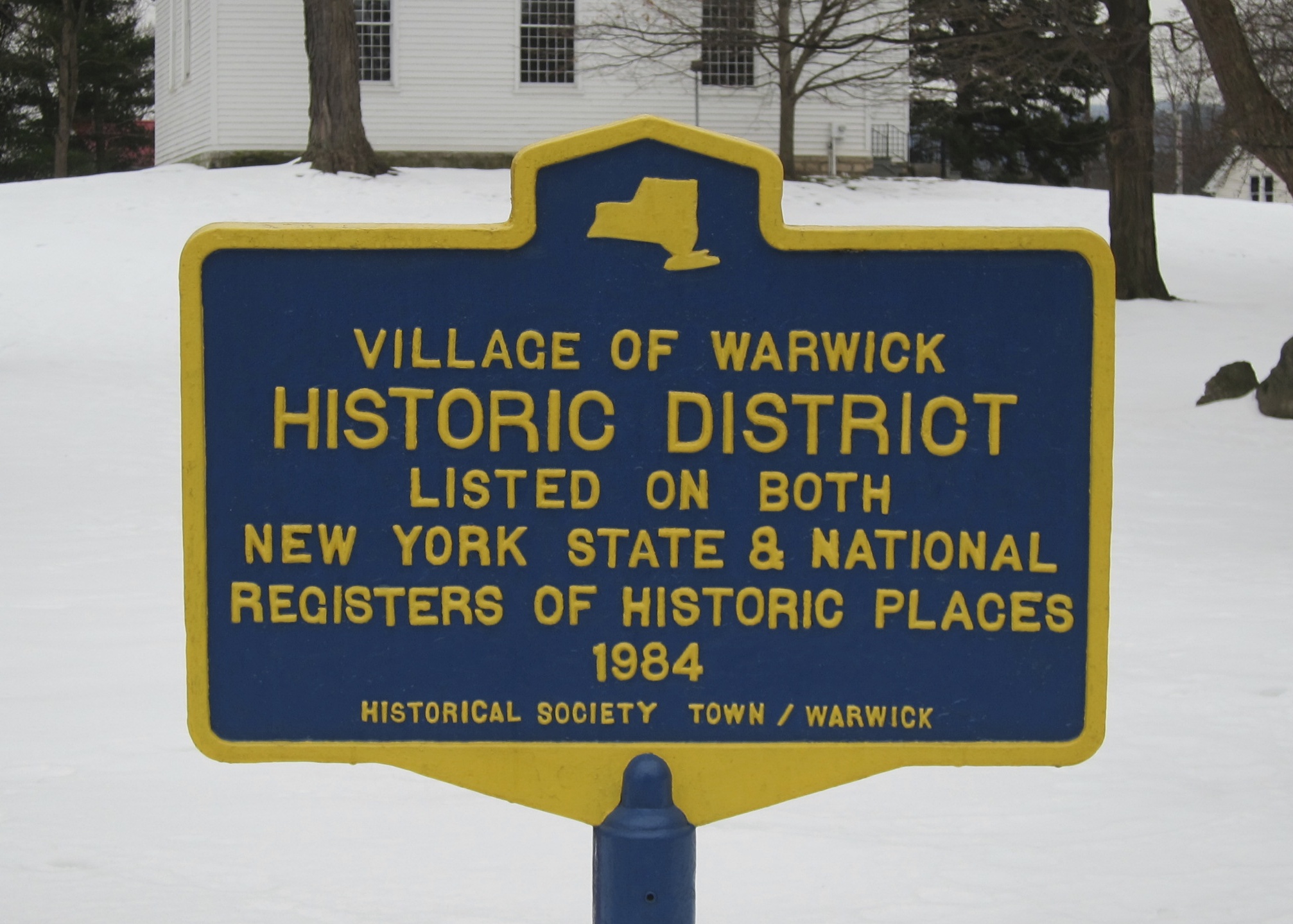 Not everyone realizes that the Village of Warwick received the rare Historic District designation from both New York State and the National Registry in 1984. This recognition is a testament to the efforts of a devoted group of early Historical Society members who, beginning in 1906, began generously donating both their time and money to purchase, save and restore some of the oldest and most beautiful buildings in the village. Many of the buildings saved by the early Society members were done so completely at their own expense and were later donated to the Warwick Historical Society.
Fast forward to 2013, and the Society now owns an unusually large number of buildings for Warwick's size – there are 10 in all. They are museums that are open to the public, some of which may be rented out (quite reasonably) for private occasions and weddings. They are all within walking distance from each other and close to the former center of the village on North Main Street (see attached Walking Map). The Society additionally owns and cares for Lewis Park and the Old School Baptist cemetery in its efforts to ensure that Historic Warwick remains beautiful.
But the preservation of historic buildings themselves is just part of the story of the larger ambitions of this "small town" Historical Society. Just three years into its existence, in 1909, the Society already owned over 270 historical books and pamphlets dating back to the 17th Century. Thus began the rich collection now cared for by volunteer archivists and open to the public by appointment, at Society's headquarters, the A.W. Buckbee Center.
Over the last 10 years, a volunteer Clothing Committee has amassed a collection of 1000 articles of period clothing and accessories, worn by Warwick residents over the past 225 years. Plans are underway for a traveling Trunk Show to schools and other events that will showcase the garments, such as the first annual An Afternoon to Remember tea party hosted by The Historical Society and the Foundation of St. Anthony Community Hospital to take place on May 5th in Lewis Park.
When Michael Bertolini, owner of local Interior design and antiques store, Bertolini & Co., became President of the Historical Society in 2012, one of his goals was to partner with other Warwick-based pillar organizations, thereby reaching out to the community and inviting residents to join the Society in its celebration and preservation of Warwick. He already had a long-standing and very close relationship with the Society as Curator and collector for its museums and now recognized some new possibilities.
Mr. Bertolini's plans for 2013 include hosting new "Curator's Choice" Talks and Tours showcasing the vast collections in all of the buildings, hosting a radio show on WTBQ, growing the educational outreach to the children of Warwick with programs like History Camp and visits to schools, and last but not least, warmly embracing new members. After all, as Mr. Bertolini says "It's your Warwick, enjoy it, explore it and join us to preserve it".
For more information visit, warwickhistoricalsociety.org or call 845.986.3236.
This article was written by Alex Romano for the April issue of Warwick Valley Life.