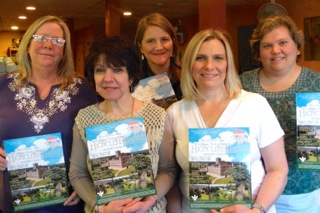 Warwick, New York – The Warwick Merchants Guild met this past Wednesday, and at the top of their Agenda was the upcoming May 5th event, AN AFTERNOON TO REMEMBER, the largest, tented formal tea party ever staged in Warwick. All proceeds will benefit St.Anthony Community Hospital and the Warwick Historical Society.
Inspired by the wildly popular television series, "Downton Abbey," a very special RAFFLE PRIZE is being offered – a trip for two to the actual shooting location of Downton Abbey, HIGHCLERE CASTLE,in Newbury,UK. This premiere four-day, three night includes roundtrip airfare for two, three nights' accommodations, ground transportation and – the piece de resistance – admission to Highclere Castle itself. Warwick Valley Travel is coordinating the vacation details.
Be sure to visit our Warwick merchants and look for the color displays with Raffle details. Raffle tickets are $10 each. The drawing for this exclusive prize will take place on the afternoon of Sunday, May 5th at AN AFTERNOON TO REMEMBER.
AN AFTERNOON TO REMEMBER promises to be a grand, turn-of-the-century tea party with ladies and gentlemen strolling in hats and gloves, enjoying posh teatime delights at beautifully appointed tables with music from The Vivace String Quartet to complete the atmosphere. Registration begins at noon at The A. W. Buckbee Center, followed by a Grand Tour of five of The Historical Society's downtown museums, ending with a High Tea on the lawn of Lewis Park.
Stop in to one of the many local businesses to buy Raffle Tickets, and for more information about tickets to the event, please visit our website: www.bschsf.org/warwick.
Pictured above is the poster that Warwick Merchants and businesses will be displaying in their stores, selling Raffle Tickets for the Downton Abbey Vacation. Raffle Tickets are $10 each.

Contact:
Pam Breeman
Chairman, An Afternoon to Remember
845-590-1184
pamelabreeman@me.com
Mary Decker
Regional Marketing Manager, Bon Secours Charity Health System
845-856-2245
Mary_Decker@bshsi.org